Locals gather at Let Laguna Live! rally on Friday
On Friday afternoon, June 15, local residents gathered together at 410 Broadway Street to enjoy tacos and refreshments at a rally and information session to support voluntary, incentive-based historic preservation. The gathering was sponsored by Let Laguna Live! and proceeds from the event will be used to support the group's ongoing educational efforts.

Photo by Sparkle Films
(L-R) Jeff Benedick, John Alexander, Erin Sparkuhl, Larry Nokes, Marilyn Alexander
Let Laguna Live! is a nonprofit organization formed by a grassroots group of concerned long-time Laguna Beach property owners who seek a Historic Preservation Ordinance that is voluntary and incentive-based. According to a release from the group, "[Let Laguna Live!] seeks a fair ordinance the puts the interest of property owners on an equal footing with the City." The group strongly believes any ordinance must require the City to obtain the consent of the owners before placing their homes on a historic preservation list."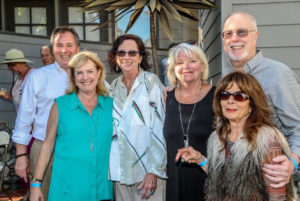 Photo by Sparkle Films
(L-R) Larry Nokes, Diane Riegler, Cynthia Brake, Kris Thalman, Chris Quilter, and Patsy Mars
Formed less than one year ago, Let Laguna Live! has more than 425 members and is continuing to grow. For more information, visit the organization's website at www.letlagunalive.org.
Originally published in Stu News Laguna on June 19, 2018.